V/O Star and Story Editor of 'The Padre'
Patrick Hickey Jr. stars as the main character of the Survival Horror Game "The Padre," from Indie Game Devs Shotgun With Glitters.
The Padre is a 3D Survival-Horror Adventure that combines a deep and evocative narrative that involves slaughtering monsters and solving puzzles, delivered through various gloomy voxelized scenes in a Lovecraftian atmosphere.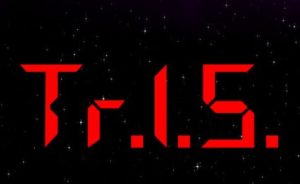 Writer, Voice of p05, Tr.1.S (Treason in Space) Trilogy
For Tr.1.S, Hickey will play the role of P05 and will pen the game's story. A hardcore fan of sci-fi, Hickey is hard at work to give the game a unique feel and a story that you'll remember just as much as its gameplay.
Hickey is working alongside a team of former AAA developers for this project, led by Pete Paquette (Madden NFL 18, Overwatch, Gladius) and his brother, Jeffrey (Reality Zombies).
The Padre Adventure Trailer
Hickey Jr. performs the narration of the trailer, which is also the same voice as the main character of the game.
The Voice of Relentless Rex
RELENTLESS REX: THE VIDEO GAME is a hand-drawn, action-adventure platformer mashup in which you help an assortment of characters explore and race through dangerous locations, using your environment, special power-ups, weapons, and the help of others to try and escape his bloodthirsty jaws.ests. Your ever-changing roster of victims will be subjected to all manner of twisted tortures—and even if you successfully navigate each.
Relentless Rex Kickstarter/Instagram Trailer
Hickey Jr. performs the narration of the trailer and the main character of the game.
Let Me Bring Your Project to Life
As a college professor and a journalist for over a decade, I have established myself as someone who is passionate about education and entertainment. In my latest endeavor as a voice-actor, I've brought life to a fictional character, thanks to a classically-trained voice and a plethora of research.
While I'm not about to stop writing or teaching anytime soon and will reference these activities quite often here, it is my voice-acting career that will receive the majority of the attention here.
Whether it be a sinister villain or a deep baritone for your epic game or film trailer, or even something a little wacky or different, I'd love to be the voice of your product and am willing to work with you in order to achieve the best results as possible.